Despite bad weather and a brutal hangover Richard Mornigton-Sanford enjoys his visit to The Central Air Force Museum at Monino near Moscow.
In December 2005 I visited Moscow as a guest of the National Federation of Helicopter Sport; you will better remember them as the World Helicopter Champions 2005.
The purpose of my visit was to conduct a Robinson R22/R44 Maintenance Course for nine of their engineers.
After a very successful course Andrey Silkin, Chairman of Council of the National Federation of Helicopter Sport, managed to organise a pass into one of the biggest aviation museums in the world - the only one of its kind in Russia.
Entrance into the museum is restricted, so not an easy task for a Westerner. A ticket would normally take a great deal of time and effort to acquire, had it not been for Andrey's contacts.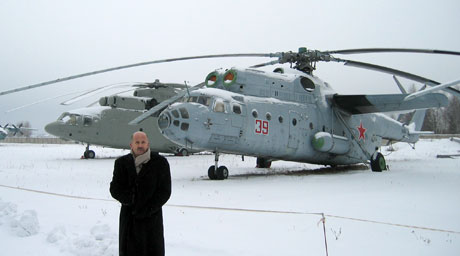 MI 6 was a twin engine heavy assault helicopter with a controllable wing
The museum boasts of more than 173 aircraft and 127 engines exhibits, 44 of which are declared to be monuments to science and technology. The exhibits display the history and development of Russian aviation and pays tribute to the achievements of their scientists and designers, together with a monument to the "bravery and courage of our winged warriors, who glorified their Motherland".
My visit took place on a bitterly cold day, and had it not been for the large amount of vodka in my bloodstream from the night before, I think that I would not have completed as much of the tour as I did.
The tour began under the shadow of a MI-12 (Homer) helicopter, which was powered by two 6,500 hp D-25VF Solovoyov gas turbine engines. Each rotor diameter is 35m and this two rotor transverse system was the first and only MH design to be built.
Its maximum take-off weight is 105,000 kg, and during test it reached a speed of 250km/h and with a fuel load of some 1,710kg had a range of 745km. In February 1969 during flight tests the Mil-12 lifted a record load of 3l,030kg to an altitude of 2,951m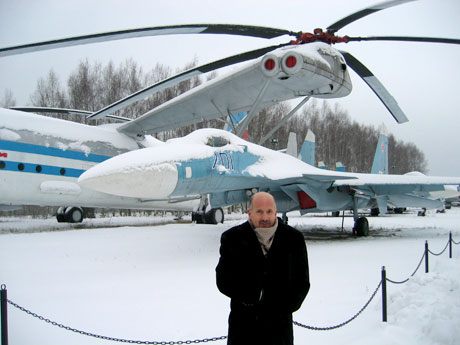 MI 12 towers over the SU 27 and Richard
Dwarfed by this monster of a helicopter is a SU-27 Fighter/Interceptor (Flanker). During tests this aircraft reached a speed of Mach 2.35 at over 11,000m.
At its normal take-off weight of 22,000kg, its take-off thrust to weight ratio is 1.1. In November 1989 test pilot V. Pugachyov landed the SU-27 on the Russian aircraft carrier Admiral Kuznetsov for the first time.
The M-50 Strategic Missile Carrier (Bounder) was designed by the Myasischev design office in 1959. Its maximum speed was expected to be MI.8, with a range of over 6,000km. However, during the 1950s the Strategic Rocket Forces were believed to be capable of providing the country's defence potential themselves, without the other fighting services' participation. Although this situation was short-lived, it did spell the end of this magnificent aircraft.
The SU-100 Prototype Bomber (factory designation T-4) was designed by P. Sukhoy and N. Chernyakov. Its power is provided by four RD36-41 Kolesov turbojets providing 10,000kg normal thrust and 16,000kg afterburner thrust each. It first flew on August 22nd 1972.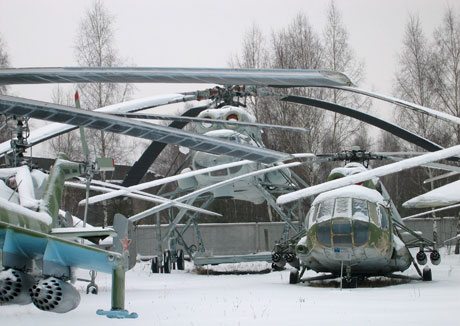 Satalky M10 (rear) was lifting almost 15,000kg in 1960
Only ten test flights were performed, during which it reached a speed of M1.7. However, in 1975 the development of the aircraft ceased, most probably due to technology difficulties.
It should be noted that the pilots were unable to fly the SU-100 visually as they could not see out of the cockpit; the aircraft was flown on instruments. The droop nose that is seen in the accompanying photograph was to give the crew a downward view.
The MI-6 (Hook) was developed as a heavy assault helicopter, powered by two D-28V Solovyov turbine engines. To off-load the rotor disc at high speeds the helicopter was provided with a 35sq/m controllable wing, which carried 25% of the helicopter flight mass.
The MI-10 helicopter was designed for airlifting large sized cargoes. Powered by two D-25V gas turbine engines, it has an extended undercarriage which enables it to taxi over a cargo up to 3.5m high.
The MI-10's maiden flight was 15th October 1960; it had a maximum vertical take-off weight of 43,450kg and could cruise at a speed of 180km/h with a cargo on the platform.
It flew from 1968 until 1974, during which time it amassed a flight time of 92hrs - its last flight was 25th December 1974, when it was delivered to the Monino Museum.
The TU-I44 Airliner (Charger) came from the Tupolev's design office. The aircraft was powered by four turbojet engines; it had two passenger compartments which accommodated 120 passengers. Maximum speed was expected to reach 2,500kmlh, with a range of 6,500km. On December 31st 1968 pilots A. Yelyan and M. Kozlov flew the TU-l44 on its maiden flight, claiming for Russia the world's first supersonic passenger airliner.
In June 1969 the aircraft exceeded MI for the first time. One of these aircraft unfortunately crashed at the Paris Air Show in 1973. The aircraft on show was produced at the Moscow Experiment Machine Factory in 1975. Its last flight was on 29th February 1980 when it was delivered to the Monino museum.
Due to the harsh weather conditions, plus the considerable after effects of a Friday night out in Moscow, I only managed to see a fraction of the museum.
The only consolation was that my Russian friend Denas was feeling as poorly as I was.
If you are ever visiting Moscow I would strongly suggest you add this museum to your list of places to visit.